If you have a baby, you know how much they LOVE anything with a tag. You also know that anything with lots of tags = instant favorite. : ) And you also know that anything from the Taggie Brand company is WICKED expensive.
When Hensley was born, I learned very quickly about this tag obsession. I started trying to find instructions for how to make her a taggie blanket and ran into nothing but junk on all the search pages. I actually googled till my googler was sore. LOL (If you watch Ace of Cakes, you know that's a direct quote.)
Finally I found
Chica and Jo
. Their adorable little site is just
chock full
of DIY's and How-To's, and all the instructions are easy to follow and include pictures (for all of us visual learners).
Every time I visit the site, I find something else that makes me think, "Holy crap that's cute!" or "Man! What a great idea!" So, its no surprise that they were the ones to come through for me with DIY Taggie Blanket instructions.
Want them to teach you how to make your little Angel a taggie blanket?
Click here.
Making taggie blankets has become my favorite sewing project. They are inexpensive, fun, and easy to make. I make them for all my friends' babies as a "birth" day gift. It warms my heart to MAKE them a gift that is straight from my heart. I also know that I'm giving a totally useful gift...unlike the STACKS of newborn-size clothing and tiny little booties that all Mom-To-Be's get showered with.
I like to use LOTS of tags (like 25 or more), and I make my rectangular instead of square. I just buy a 1/2 yard of fabric, cut off the selvedges (sp?) and cut it in half. Voila...perfect rectangular shape. That way, when Mom goes to put that sweet baby in her car seat, the blanket can be tucked around her so she stays warm AND has the tags to rub...or if its my girls we're talking about, eat. : )
Here are a few examples of blankets I've made...
My VERY first one. I made it for my sweet Hensley just weeks after she was born. She still sleeps with it every night.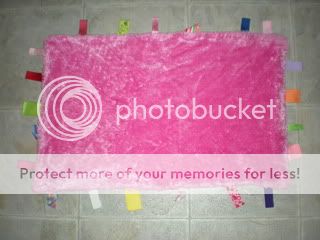 My second taggie...made it for Miss Daycie Doodle. She loves it, but she loves everything right now. ; )
And an example of my more recent Taggie Blankets...LOTS of tags! Love them!